Whether you´re looking for a day full of waves or in the mood for an adventure, or simply want to soak up all the food and culture our land has to offer, we´ve got you covered. Check out all the experiences available to live like a true galician local. 
At our Surf School the motto is good vibes on the tides. Regardless if you have come to catch your first wave or have spent the last years ripping pipe, we welcome and cater to all levels of surfers. Whether you are a beginner, intermediate or advance. Our teachers include I.S.A. Level 1 instructors as well as Level 2 surf coaches. The surf school focuses on adapting the instruction to the personal level so we can help you meet the goals you set for yourself at the begging of every week.
Our philosophy focuses on providing students with the best wave for their skill level as well as a continued focus on personal development through thorough feedback and analysis. Concentrating not just on time in the water but also complimentary knowledge through theories and video correction, we guarantee a fast-track learning format. Unlike many other surf schools, we always set our class based on the tides and conditions to give you the very best experience.
Moreover, you will be coached by some of the best instructors this area has to offer, having surfed some of the coolest breaks all over the world,
these guys have a ton of experience in teaching and coaching, immense knowledge of all the local beaches and most importantly you will always be able to share some laughs with these dudes.
What's more is that our little paradise offers more than 10 surf spots all within a 20km radius. We try our best to move between different
spots, keeping things dynamic and in constant change just like the ocean herself. Our course focuses more on quality over quantity. With smaller group sizes our coaches can concentrate more on the quick development of the individual surfer.
Come take part in this incredible opportunity to boost your surfing in a supportive & fun environment!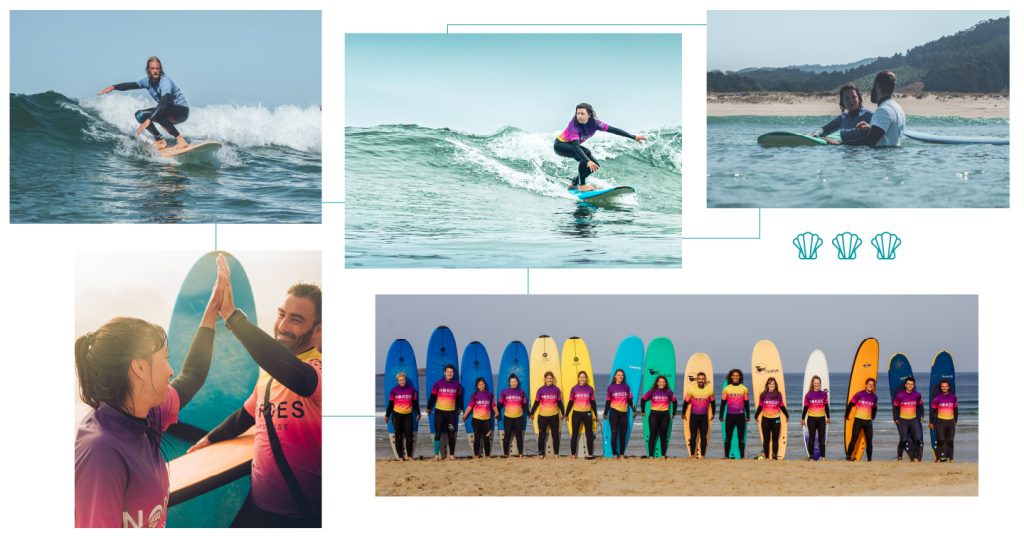 Are you a freesurfer and want to get the best surf sessions? Try our surf guiding.
Surf guiding is the best way to getting to know Galicia´s most famous spots and super secret locations with Nordes Surfhouse! As one progresses in surfing its only normal that we tend to have certain likes in waves. Some opt for fast punchy waves, others look for the barrel and a few just want to cruise on a mellowed out break. The good news is that at Nordes Surfhouse and surf-school we have options for all likes. Our area is known for its variety in waves and there sure is a lot of ground to cover. As any surfer knows, time is precious so don´t waste it. Make the most of your vacation by hiring a local guide to take you to the best options that our vast coastline has to offer!

So the day will begin by checking out the surf forecast and picking the best option based on those conditions. Of course, taking into account your surf level and experience, as well as your desire for adventure we will give you some options and then you can help us make the call. Once we get to the spot we will provide you with all the information you need in order to stay safe and get the most fun out of your surf session.
Our guides will also be more than happy to give you some tips once we are in the water and to give you that extra feeling of comfort and safety.

Book weekly packages the weekly package to receive a video analysis from our coaches.
Packages include the following:
Galician Quality! A frase that every local and visitor truly learns to identify with. That's because our region is one rich with experiences that has  people always returning to our shores. A new adventure awaits for you everyday. Come discover the magic of this story book paradise, by way of sea, mountain or food! Contact us to find out how you can make the most of everyday while you enjoy your stay with us!
Make the most of your holiday!